Frequency-Specific Microcurrent – FSM
Relieve pain using very low levels of electrical current.
Learn More
What is
frequency-specific microcurrent

(FSM)?

Frequency-specific microcurrent (FSM) is a technique for treating pain by using low-level electrical current. The current is delivered to certain parts of your body in an attempt to relieve pain.

A frequency is the rate at which a sound wave or electronic pulse is produced. This measurement is registered in hertz (Hz). During FSM treatment, various frequencies can be used to potentially reduce swelling (inflammation), repair tissue and reduce pain.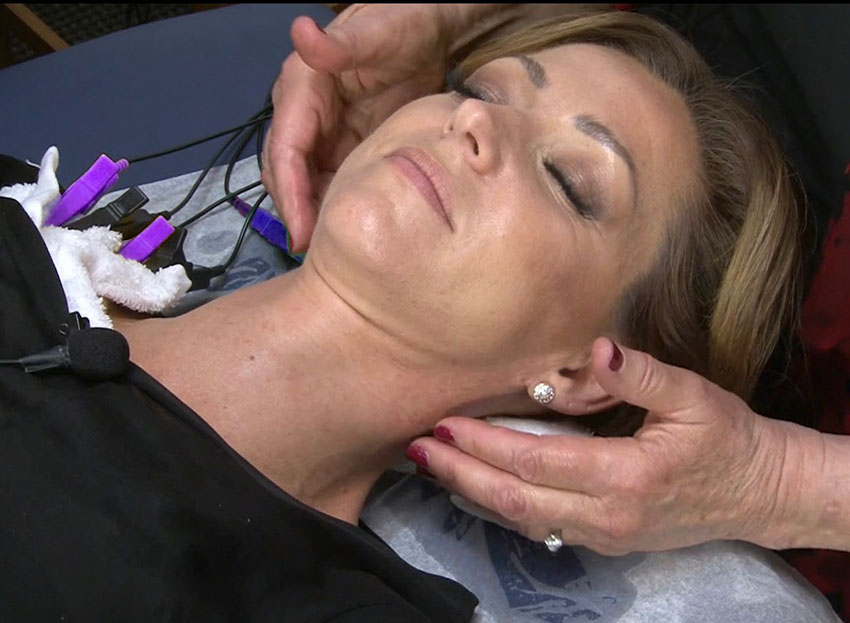 How does
FSM therapy

work?

When you're treated with FSM, your therapist uses a two channel device to deliver a mild electrical current to certain parts of your body. Most Individuals do not even feel it. The electrical current is one-millionth of an ampere, similar to holding a AA battery in between two fingers. Such a small amount of electrical current is safe. Interestingly, the human body produces its own current within your cells. We are trying to mimic your body's own electrical current. This is called resonance.

Depending on the tissue involved, specific frequencies will be selected to encourage natural body healing and reduce your pain. There are frequencies for nearly every type of tissue in your body.FSM is new to the area; however, it is not a new science. FSM works by potentially increasing the production of ATP (adenosine triphosphate), a source of energy stored and used at the cellular level. Every living thing has ATP inside of it. FSM can increase the amount of ATP that's created in your damaged cells by as much as 500%. Depending on the condition; treatment with FSM can "loosen" or soften the muscles, which can help relieve pain or stiffness. Treatments work best with closer appointments, such as 2 within the week, then longer intervals between sessions afterwards.
What conditions can be treated with frequency-specific microcurrent (FSM)?
FSM is most often used to treat pain, especially nerve and muscle pain, inflammation, and scar tissue, from the following conditions:
Shingles.
Burns.
Kidney stones.
Asthma.
Irritable bowel syndrome.
Disc injuries.
Fibromyalgia.
Diabetes-related neuropathy.
Neuromas
Tendinopathy
Acute musculoskeletal injuries.
Acute and chronic nerve pain.
Chronic fracture and bone pain.
Arthritis.
Disc injuries
Concussions.
Headaches.
Plantar fasciitis
Sports injuries.
Wounds.
Is FSM safe?
FSM is safe for most individuals. Therapists cannot use it on people with pacemakers, insulin pumps, those who are pregnant, or people with uncontrollable seizures. Side effects for FSM are also rare and mild, which may include nausea and drowsiness.
Why should you try FSM
The way you prepare for FSM is to come in well hydrated. There is no downtime. It works or does not. It is considered very safe with no to very mild side effects. Studies have been conducted showing a 70- 80% success rate using FSM. So why not give it a shot FSM
We're Here to Serve You
Piedmont Injury Massage is a full-time, hands-on service. Book a consultation today to begin your personalized path to recover, wellness and overall skin health.
We specialize in soft tissue injury, including sprains, strains and tears and help you get back to feeling normal again!
Tighten and tone your face with our digital skin analysis and advanced skin treatments for all skin types.
Isolate different parts of tissue in the body that is causing pain or discomfort without the discomfort of stripping the muscle.